Family Medical Practice conducts a broad range of specialized health talks on a number of various topics for individuals and groups. The information delivered can be adapted to suit the particular needs of target audiences, including schools, staff, home help, and parents seeking to learn more about how to protect the health of their families.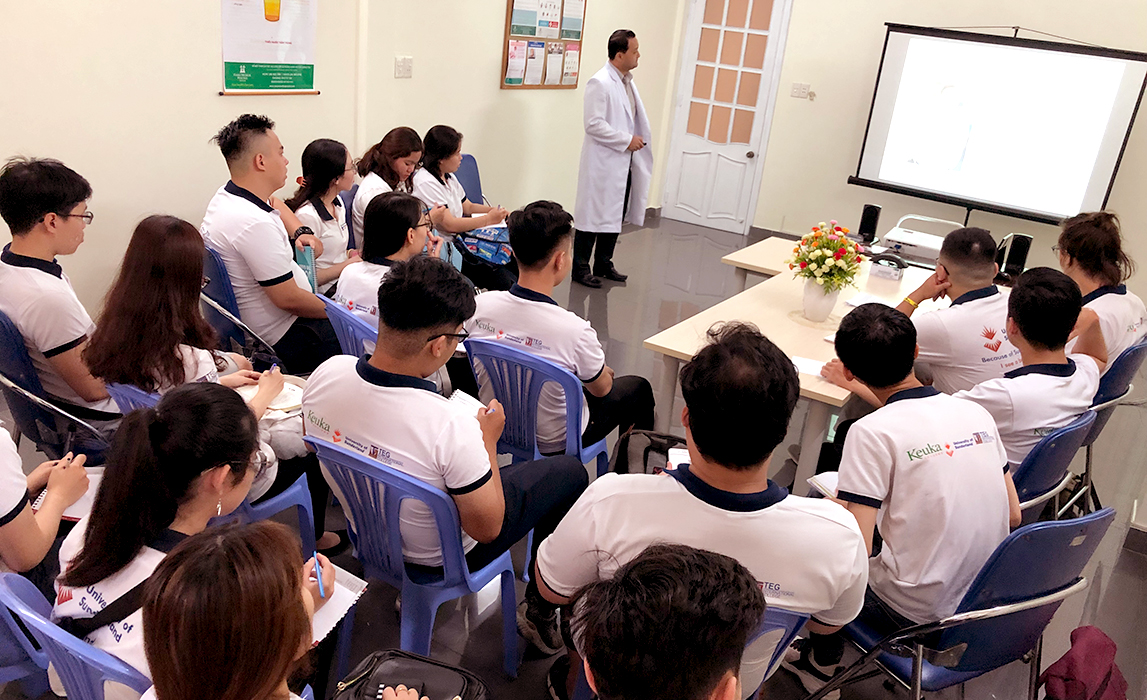 Health Talk Topics
We deliver presentations that can cover issues in general health, women's health, pediatric care, STIs, diet & nutrition, fitness & exercise, and stress management, among many others. Sample topics that have been well-received in the past include:
| | |
| --- | --- |
| Women's Health on Fertility and Cancer | A basic understanding of women's health and fertility issues including breast, ovarian and cervical cancer, as well as HPV vaccinations. |
| Cardiovascular Risk | Understanding risks and prevention. |
| Diabetes and Cholesterol | Understanding blood cholesterol and how to lower the risks of heart disease through dietary means. |
| Managing Hypertension | Diagnosis, prevention, and treatment. |
| Making your Child Smarter | A pediatric approach to stimulating childhood intelligence. |
| CPR & First Aid Awareness | Learning techniques to help you react to medical emergencies and perhaps even save a life. |
| Travel and Health | Know the risks and protect your health and wellbeing while traveling domestically and abroad. |
| Pediatric Respiratory Disease | Asthma, anaphylaxis and allergies. |
| Primary School Topics | Staying healthy, the body's systems, water, plants in medicine, health and nutrition. |
| Allergies and Anaphylaxis | What allergies are and how to recognize and deal with an allergic reaction. |
| Vaccinations | The importance of vaccines and which vaccination schedule to follow—and why. |
| Healthy Living for Students | Physical activity, sleep, managing stress, and managing mental health. |
| Fever in Children | What to worry about and what NOT to worry about when your child has a fever. |
Presenters
Family Medical Practice's health talks are conducted by some of our most experienced and personable doctors on staff. These talks are well-presented, highly engaging, and supported by credible medical information to provide effective and useful instruction.
Popular presenters on our staff include:
Dr. Christopher M. Suazon
General Practitioner, Danang Medical Director
Having worked in general practice for 17 years—almost a decade of those with Family Medical Practice—Dr. Chris takes crucial responsibility for primary health before patients move on to varied specialists as required.
Dr. Hazel Gallardo-Paez
Family and Community Medicine
Dr. Hazel's medical expertise addresses a diversity of challenges and treatments, based on her extensive Pediatrics training in a tertiary hospital and her subsequent experiences handling pediatric patients under a variety of healthcare frameworks (including emergency departments, outpatient departments, pediatric wards and acute neonatal care).
Dr. Elvie Joy Atanque-Basa
Pediatrician
Dr. Elvie has accumulated wide experience as a general practitioner and pediatrician in the decade since graduating from the University of Visayas Gullas College of Medicine in Cebu, before which she was already a licensed pharmacist.