Family Medical Practice conducts a broad range of specialized health talks on a number of various topics for individuals and groups. The information delivered can be adapted to suit the particular needs of target audiences, including schools, staff, home help, and parents seeking to learn more about how to protect the health of their families.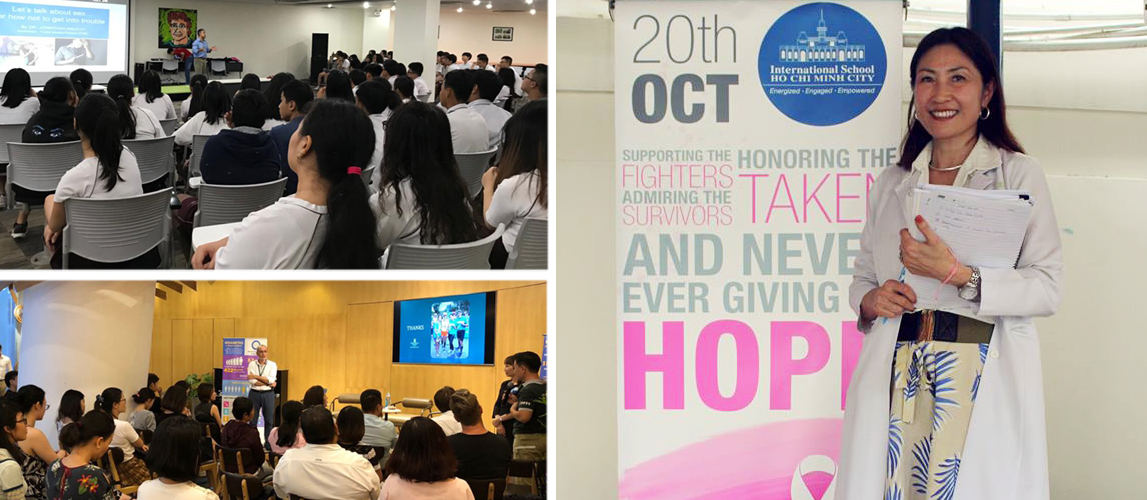 HEALTH TALK TOPICS
We deliver presentations that can cover issues in general health, women's health, pediatric care, STIs, diet & nutrition, fitness & exercise, and stress management, among many others. Sample topics that have been well-received in the past include:
Women's Health on Fertility and Cancer
A basic understanding of women's health and fertility issues including breast, ovarian and cervical cancer, as well as HPV vaccinations.
Healthy Nutrition
The impact of good eating habits on your health and general wellbeing.
Cardiovascular Risk
Understanding risks and prevention.
Diabetes and Cholesterol
Understanding blood cholesterol and how to lower the risks of heart disease through dietary means.
Cancer
Lifestyle choices to reduce the risk of cancer.
Sexual Health
Overview of major sexual health issues and how to minimize risk, including information about sexually transmitted infections.
Stress and Sleep Management
Definition and impact of stress and sleep deprivation on our general health, and how to manage their effects.
Office Ergonomics
The art of fitting the work environment to the person.
Managing Hypertension
Diagnosis, prevention, and treatment.
Making your Child Smarter
A pediatric approach to stimulating childhood intelligence.
CPR & First Aid Awareness
Learning techniques to help you react to medical emergencies and perhaps even save a life.
Travel and Health
Know the risks and protect your health and wellbeing while traveling domestically and abroad.
Hepatitis and Liver Diseases
Learn how to prevent and manage serious conditions of the liver, including information on living with liver cancer.
Respiratory Disease
Steps toward understanding and preventing illnesses of the respiratory tract.
Pediatric Respiratory Disease
Asthma, anaphylaxis and allergies.
Coughs & Cold Medicines
How to care for children with persistent cough, and which medicines are truly effective.
Making Healthy Choices
Smoking, alcohol and drugs, puberty, safe sex, safety, nutrition, plants in medicine, the environment. How we make choices about our health, and what impact these decisions have.
Smoking
The dangers of smoking, second and third hand smoking, e-cigarettes, and why people smoke.
The Environment
Different types of pollution and their effects on our environment.
Safety
Safety at home, on the road, in sports, and on the internet.
Puberty
What is puberty, what happens to the body, hormones, sex, emotions and conflict, the internet.
Primary School Topics
Staying healthy, the body's systems, water, plants in medicine, health and nutrition.
Sleep
Sleeping patterns and common sleeping problems.
Allergies and Anaphylaxis
What allergies are and how to recognize and deal with an allergic reaction.
Pediatric Nutrition
Feeding disorders in babies and children.
Vaccinations
The importance of vaccines and which vaccination schedule to follow—and why.
Child Sexual Abuse and Early Detection
How to recognize the signs of child abuse and learn the facts to protect children at risk.
Sex Education
Important information about sexuality and sexual health for adolescent children.
Safe Sex
Avoiding pregnancy, STDs, different kinds of contraception, the emergency pill.
Teenage Mental Health
Stress, anxiety, and depression in teens—how to recognize the signs and provide support. Also covers bullying, self-harm, and emergencies/crises.
Substance Abuse
Important information about drugs, alcohol, and the psychological causes and impact of substance dependency.
Healthy Living for Students
Physical activity, sleep, managing stress, and managing mental health.
Antibiotics
Issues with using antibiotics in Vietnam, including overprescriptions and over-the-counter medicines.
Fever in Children
What to worry about and what NOT to worry about when your child has a fever.
HIV
Current understanding of the risks and available precautions against HIV/AIDS.
Skin Cancer
Prevention and detection of skin cancer—understanding the risks.
Toddler Adventures: Rashes, Warts and Bites
Insights into frequent toddler medical conditions caused by viruses, bacteria, fungi or worms.
Acne: Why Should we Treat it Early?
Early treatment prevents the main consequences of acne—hyperpigmentation and scarring.
Snow White Did Not Travel to the Tropics
White skin exposed to the tropical sun can develop or trigger a number of medical conditions.
Bugged: The Colorful World of Insect Bites
Scabies, bed bugs, Paederus fuscipes, centipedes, sandflies, mosquitoes, ticks and other little creatures.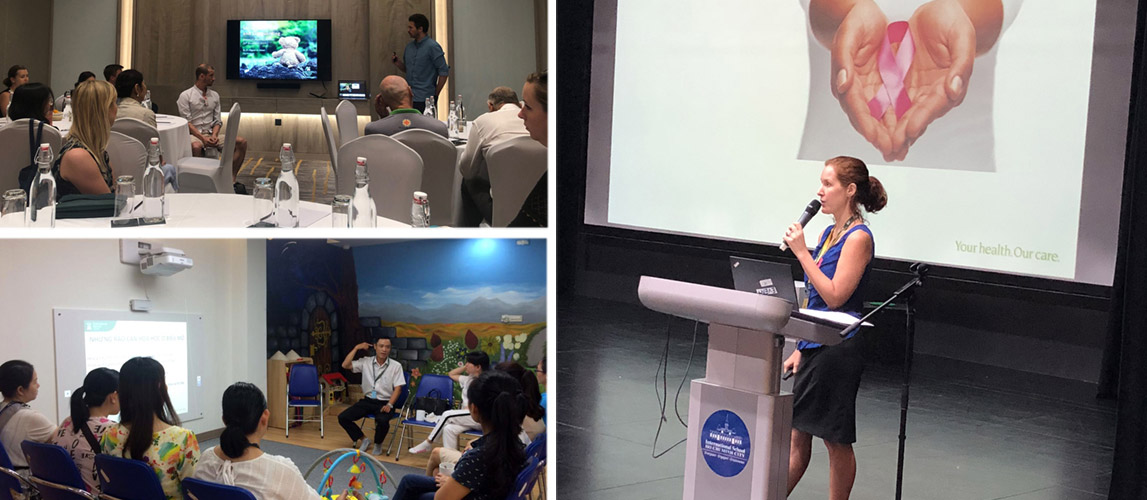 PRESENTERS
Family Medical Practice's health talks are conducted by some of our most experienced and personable doctors on staff. These talks are well-presented, highly engaging, and supported by credible medical information to provide effective and useful instruction.
Popular presenters on our staff include:
Dr. Jane Li Shadwell
Internal Medicine
Dr. Jane deals with a broad variety of treatments, conditions and diseases—taking particular interest in the field of dermatology and infectious disease. She is a graduate of her native New York's Stony Brook Medical School.
Dr. Kate Naumova
Internist (Nutrition Subspecialty)
Russian native Dr. Kate seeks to enhance people's health through nutritional changes, improving patients' general wellbeing. She was awarded her PG certificate and diploma in dietetics in 2018.
Dr. Pedro L. Trigo
Internist (Hepatology Subspecialty)
Family Medical Practice's resident specialist in liver disease remains drawn to the complexity of conditions impacting the liver, and is a regular speaker and lecturer at specialist conferences all over the world.
Dr. Nguyen Forton Guillaume Ngoc Kim
Cardiologist
With 25 years of experience in both Cardiology and intensive care units in France, Dr. Guillaume holds a degree in Cardiology and Cardiovascular Diseases from the Medical University of Paris and is a member of the French & European Cardiology Societies.
Dr. Serge Gradstein
Pediatrics and Infectious Disease
A French native with over three decades of experience in medicine, Dr. Serge worked in infectious diseases in Israel, which led to a specialty in sexually transmitted disease.
Dr. Jonathan Halevy
Pediatrician
A published author on pediatric care, Dr. Jonathan is frequently invited by the local community to conduct talks, having addressed many schools and parent groups on pediatric health issues and other medical topics.
Dr. Bui Nghia Thinh
Emergency Medical Director
Drawn to the fast pace of Emergency, Dr. Thinh has been an integral part of both our medical team and the development of our emergency medical response system.
Dr. Tran Thi Kim Nguyet
Obstetrics, Gynecology and Women's Health
Dr. Nguyet is responsible for all aspects of women's health—including gynecology, breast cancer, osteoporosis, reproductive health, perimenopause and menopause.
Dr. Miguel de Seixas
Psychiatrist
Dr. Miguel undertook his psychiatric studies in the U.K., training in Cambridge and London. He is a member of the Royal College of Psychiatrists and is certified by the General Medical Council, U.K.
Dr. Truong Hoang Quy
Pediatrician
Dr. Quy received his MD at Thai Binh Medical University, his Pediatric specialty from Hanoi Medical University, and has a Master's Degree in Public Health Nutrition from the Queensland University of Technology in Australia.
Dr. Ruben Martinez-Castejon
Internist (Dermatology Subspecialty)
Dr. Ruben has been the referral point for skin-related conditions at FMP since 2012. He obtained a postgraduate diploma in dermatology at Cardiff University and studied dermoscopy with the finest experts in the field—a technique that aids in the early detection of skin cancer. He is now starting a scar care unit at our medical center featuring the best of modern treatments.