SIMBA session weekly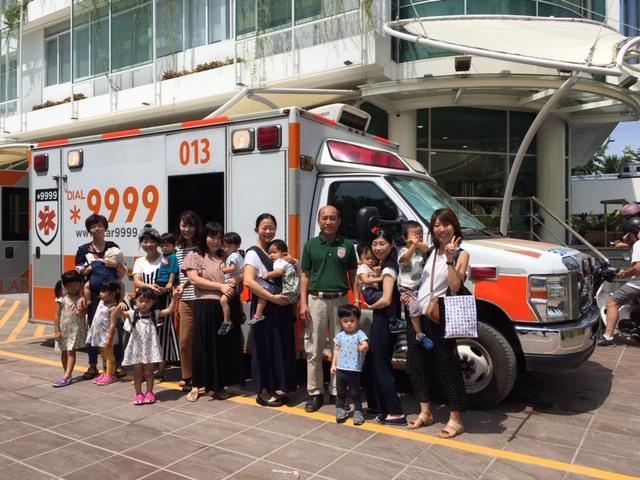 Our Japanese SIMBA group held a very special session this week with a tour at our D2 medical center and emergency ambulance service.
7 Japanese mums and 10 children between 0–5 years old joined yesterday's tour of the new facilities. The mothers learned more about our recently expanded D2 Medical Center and enjoyed the opportunity to meet and exchange information.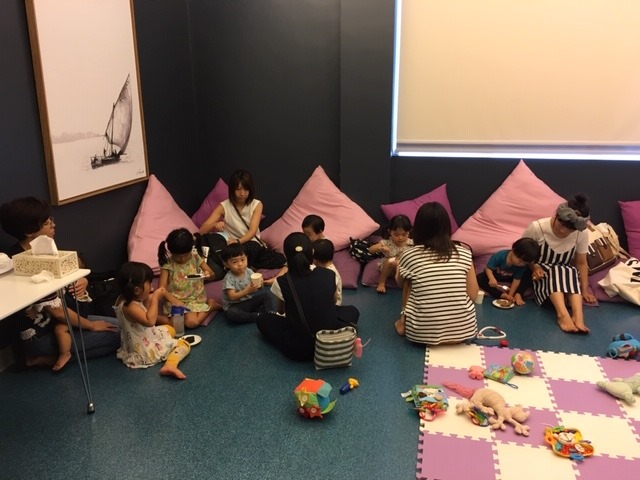 The group visited several parts of the medical center, including the alarm center where emergency calls are handled; the operating theater where our orthopedic procedures are performed; and the dermatology room which houses our new scar treatment clinic. They also toured our inpatient rooms—one mother commented that they looked like hotel suites—as well as our rooms for psychiatric and physiotherapy treatments, and our salt room, which is currently under preparation to offer halotherapy treatments for patients with respiratory problems such as asthma.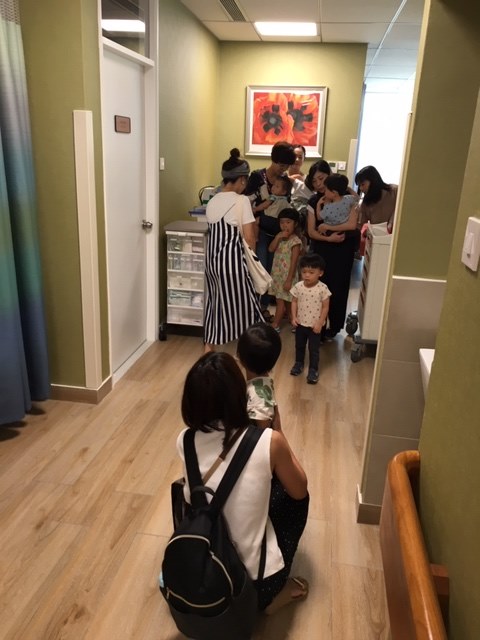 The SIMBA mothers were also introduced to our in-house laboratory, which enables our clinic to provide rapid test results with minimal waiting time, and our endoscopy room under Japanese gastroenterologist Dr. Masato, which features one of the most advanced endoscopes in the country.
While the mothers appreciated visiting the pharmacy and vaccination rooms, where nurses explained the available medication and how vaccines are stored safely, the children loved the pediatric consultation room with all the colorful fish decorations. The ambulances were an exciting feature of the tour as our emergency staff were able to explain the high-tech facilities on board and stress the importance of our *9999 emergency service.
Although the small children had been scared of going to the doctor in the past—usually frightened of taking vaccinations—they were delighted to get to know the medical center better.
After the tour, the mothers spent some time taking tea and coffee (and the favorite cakes that have become staples at our regular meetings!) while the children played together. One of the mothers had previously been a long-term patient at FMP and mentioned how supportive FMP, especially the Japanese team, have been—and said that she and her husband are very grateful.
In other news of interest to our Japanese community, FMP has hired a new Japanese gynecologist—who will be a great addition to our current team of physicians. Our new doctor is fluent in English as well as Japanese and so will be able to provide services to women from throughout our community.
Clinic and ambulance tours for mums and children are a wonderful way to explore the facilities at Family Medical Practice. For more information about future tours, please contact our marketing team on (028) 3822 7848.
-- Family Medical Practice Vietnam: https://www.vietnammedicalpractice.com/