HCMC Family Medical Practice (FMP) offers a range of vaccines that are recommended for living and traveling in and out of Vietnam.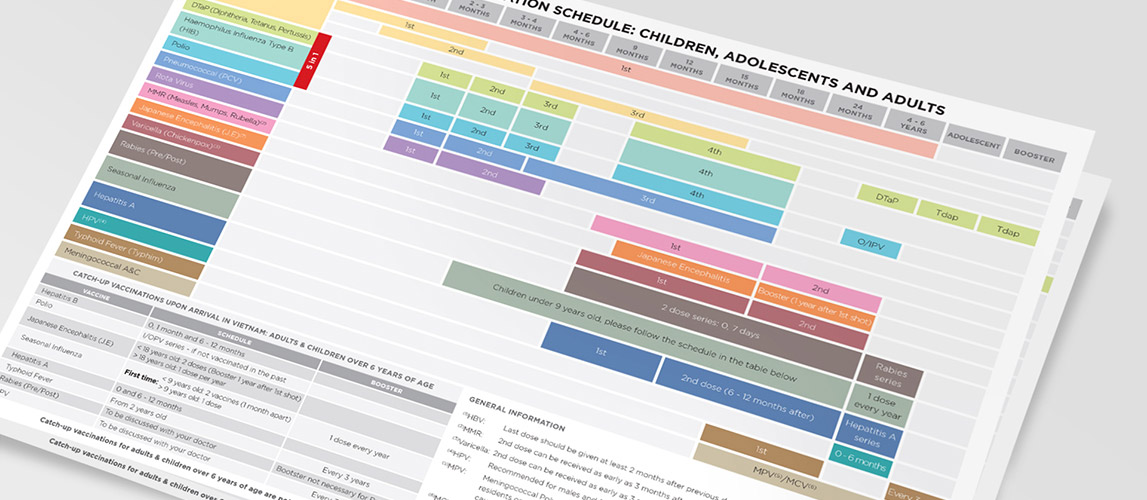 If you need to review your vaccination schedule, make an appointment with any of our doctors who will be happy to help you. For a child under 16 years old, we recommend you make an appointment with our pediatrician.
Please bring your vaccination book or record with you if you already have one. For those traveling to or moving to Vietnam, it's advisable for you to visit your local doctor at home—preferably someone who specializes in travel medicine. The ideal time for this is four to six weeks prior to your date of departure for Vietnam. However, even two weeks before departure, it is still useful to see a travel medicine doctor. First of all, everyone is recommended to have their routine immunizations prior to visiting Vietnam, although different countries may have slightly different recommendations. Individuals of different ages and with varying medical conditions may need to have specific vaccinations. Please check with your own physician to find out what the recommendation is for your country of residence.
This service is available at Clinic No. 3 of HCMC Family Medical Practice (FMP)
Address: 95 Thao Dien District 2
Tel: (028) 3744 2000
Working hours: Monday - Friday 8:00am - 6:00pm, Saturday 8:00am - 5:00pm
Operations license No.: 00019/SYT-GPHĐ
Medical director: Dr. Serge Gradsztajn (Practice license No.: 00952/BYT-CCHN)