Dr. Rafi Kot delivers inspirational Vietnam success story at TEDx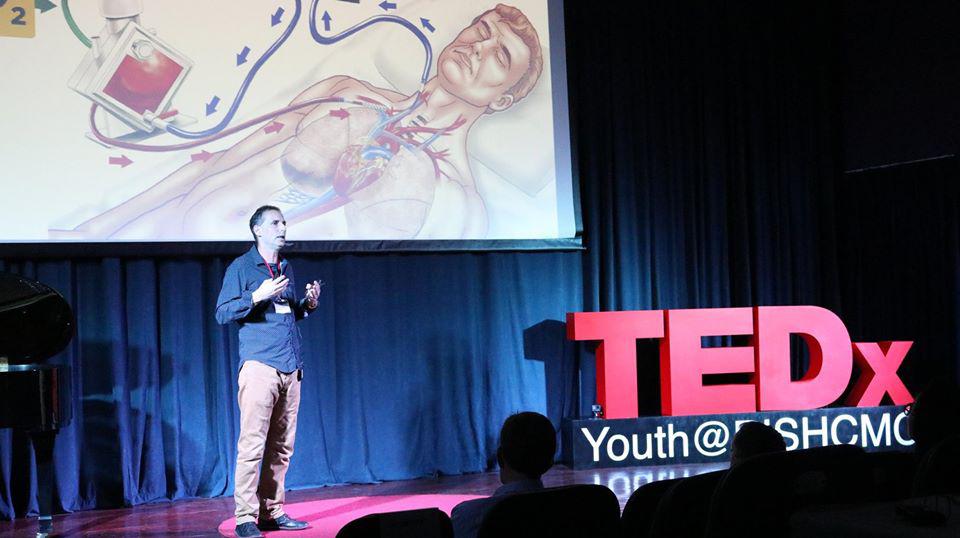 Ho Chi Minh City, 8 March 2018: Speaking at "TEDxYouth@BISHCMC", the first TEDx event in Ho Chi Minh City for 2018, Family Medical Practice's founder Dr. Rafi Kot presented a case of how a little Vietnamese ingenuity, underpinned by a father's hope and a can-do attitude, can save lives and lead to the nation being recognized as a pioneer and role-model for the region.
In his presentation titled The Art of Cheating Death, Dr. Kot spoke of a relatively quiet Sunday afternoon in the clinic that was disrupted when a young Russian tourist struggled through the doors, gasping for breath.
"Our doctors' examinations bore some bad news – severe inflammation of the walls of her heart, exacerbated by the low cabin pressure on a long flight from Russia. We call it dyspnea – basically a severe shortness of breath that had the patient destined for a heart-lung machine. While there are several in Vietnam, the machinery here was simply not a long term solution, and we knew that we needed to move her to a facility in Thailand where she would be able to receive more sustained care – but this is far easier said than done," he continued.
These machines – known as 'ECMO' - extra corporeal membrane oxygenation machines – take over pumping blood from the heart and breathing from the lungs while the organs are effectively disconnected from the body.
ECMO medical evacuations have been described as 'the Mount Everest of medical transportation' for their incredible complexity for people who are hanging to life by the thinnest of threads.
"How do you move a patient to another country, when she is simply unable to draw breath and her heart is unable to pump blood?" he asked the 100-strong audience in the theater at Ho Chi Minh City's British International School in District 2. "But in an acute life and death situation where failure is not an option, ingenuity and innovation are paramount and it is amazing what kind of ideas you are able to come up with."
No one in the region had ever undertaken such a move, and no one was willing to try, citing liability as a key concern.
"I sat with her father, I explained to him the risks, and he said a phrase I will never forget. 'Doctor, for you it is a risk. For me, it is a chance," said Dr. Kot.
"Thankfully, if three decades in Vietnam has taught me one thing, it is that this is a nation of ingenuity, where people have the skills and the wherewithal to give something a shot. And so, with just some scribbles on a notepad, four hours later, we had custom-built a rig that included a ventilator, a Dr. Lucas machine, two oxygen tanks, an ECMO monitor, a mounted mechanical heart and lung, four syringe pumps for ongoing medication, thermo-blankets, all mounted on a custom built rig with its own working table."
With that, Asia's first mobile ECMO was built and ready to move – but the challenges were just beginning. A team of 14 was assembled that included bio-engineers, ER specialist doctors, cardio specialists and supporting nurses, each with a unique role to play in the mobilization.
A standard passenger jet did not have wide-enough doors to move the patient, so the team had no choice but to contact both Vietnam Airlines and the aircraft manufacturer in France to discuss using the smaller propeller-powered aircraft which has a wider cargo door which needed to be removed and reinstalled in order to transport the patient. The craft was also only available in the dead of night, meaning that all the patient moving was done in total darkness, before the airline brought the plane back to Vietnam for a 6 am passenger flight.
The flight arrived safely in Bangkok shortly after, and the reverse process took place, as the patient was moved to treatment there. She recovered fully and returned to Russia several months later.
"It wasn't until later that we reflected on what we had been able to achieve in those days," said Dr. Kot. "Everyone said it was impossible. The only nations that had done it before were advanced countries like the Germany, Australia, New Zealand, the U.S., and France – no one in Asia. And then, a small private clinic in Vietnam suddenly joined the ranks of international nations performing these kind of evacuations, and a global leader in its own right."
"We have now done this for a Chinese patient as well, and have inadvertently become an industry pioneer. We just wanted to help a tourist, but sometimes an acute event places you in a unique situation, a place that you do not think you will be," he concluded, focusing his gaze on the students in the room. "My advice then to kids is when life presents you with these situations, focus on the positives. Put your energy toward what will happen if you do pull it off, and turn your back on the people who tell you that it can't happen. Life's biggest challenges are shrouded in those events, and when you overcome those obstacles, those are the times that you define your life's journey."
--------------------------------------------------------------------------------------------------------------------
About Family Medical Practice:
Family Medical Practice, the first foreign-operated, multi-disciplinary primary medical health care provider in Vietnam, opened in Hanoi in 1994 and owns and operates five modern clinics based in Hanoi, Danang and HCMC. FMP is the only private medical provider in Vietnam with such national coverage. All Family Medical Practice clinics have fully-equipped ambulances described as "state-of-the-art emergency medical units" on standby 24 hours a day.
About TEDx, x = independently organized event
In the spirit of ideas worth spreading, TEDx is a program of local, self-organized events that bring people together to share a TED-like experience. At a TEDx event, TED Talks video and live speakers combine to spark deep discussion and connection. These local, self-organized events are branded TEDx, where x = independently organized TED event. The TED Conference provides general guidance for the TEDx program, but individual TEDx events are self-organized. (Subject to certain rules and regulations.)