Tedx Event at British International School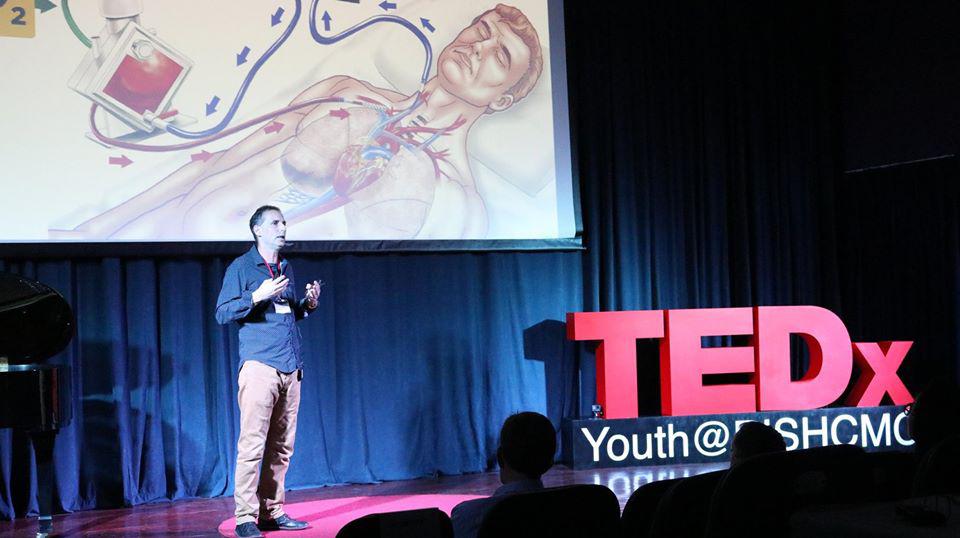 Last Thursday Family Medical Practice's founder DR. RAFI KOT presented a fascinating talk at the first TEDx event held in Ho Chi Minh City for 2018, which was convened in the British International School theater in District 2.
In his presentation, "The Art of Cheating Death," Dr. Rafi's TEDx talk focused on the groundbreaking Vietnamese innovations that allowed his team to perform a complex medical evacuation that counts among the region's first in its category, with local ingenuity surpassing the capacities of other nearby countries in terms of technical difficulty. No one in the region had ever undertaken such a move, and no one was willing to try, citing liability as a key concern.
"I sat with her father," explained Dr. Rafi. "I explained to him the risks, and he said a phrase I will never forget: 'Doctor, for you it is a risk. For me, it is a chance.'"
In this case, the risk was indeed critical. "How do you move a patient to another country, when she is simply unable to draw breath?" Dr. Rafi asked in his address. "But in an acute life and death situation where failure is not an option, ingenuity and innovation are paramount and it is amazing what kind of ideas you are able to come up with."
"With just some scribbles on a notepad," said Dr. Kot, "four hours later we had custom-built a rig that included a ventilator, a Dr. Lucas machine, two oxygen tanks, an ECMO monitor, a mounted mechanical heart and lung, four syringe pumps for ongoing medication, and thermo-blankets, all mounted on a custom built rig with its own working table."
A forthright visionary in regional medical care, Tel Aviv native Dr. Rafi Kot is the C.E.O. and founder of FMP, first opening the practice in 1994 after running a number of health care projects for remote minority groups in the Vietnamese North. He has developed Family Medical Practice into one of the leading primary healthcare providers in Vietnam.
About TEDx, x = independently organized event ▪
In the spirit of ideas worth spreading, TEDx is a program of local, self-organized events that bring people together to share a TED-like experience. At a TEDx event, TED Talks video and live speakers combine to spark deep discussion and connection. These local, self-organized events are branded TEDx, where x = independently organized TED event. The TED Conference provides general guidance for the TEDx program, but individual TEDx events are self-organized. (Subject to certain rules and regulations.)
About TED ▪
TED is a nonprofit organization devoted to Ideas Worth Spreading, usually in the form of short, powerful talks (18 minutes or fewer) delivered by today's leading thinkers and doers. Many of these talks are given at TED's annual conference in Vancouver, British Columbia, and made available, free, on TED.com. TED speakers have included Bill Gates, Jane Goodall, Elizabeth Gilbert, Sir Richard Branson, Nandan Nilekani, Philippe Starck, Ngozi Okonjo-Iweala, Sal Khan and Daniel Kahneman.
TED's open and free initiatives for spreading ideas include TED.com, where new TED Talk videos are posted daily; the Open Translation Project, which provides subtitles and interactive transcripts as well as translations from thousands of volunteers worldwide; the educational initiative TED-Ed; the annual million-dollar TED Prize, which funds exceptional individuals with a "wish," or idea, to create change in the world; TEDx, which provides licenses to thousands of individuals and groups who host local, self-organized TED-style events around the world; and the TED Fellows program, which selects innovators from around the globe to amplify the impact of their remarkable projects and activities.
👉 Follow TED on Twitter at http://twitter.com/TEDTalks, on Facebook at http://www.facebook.com/TED or Instagram at https://instagram.com/ted.