COVID-19 Fit to Fly certificate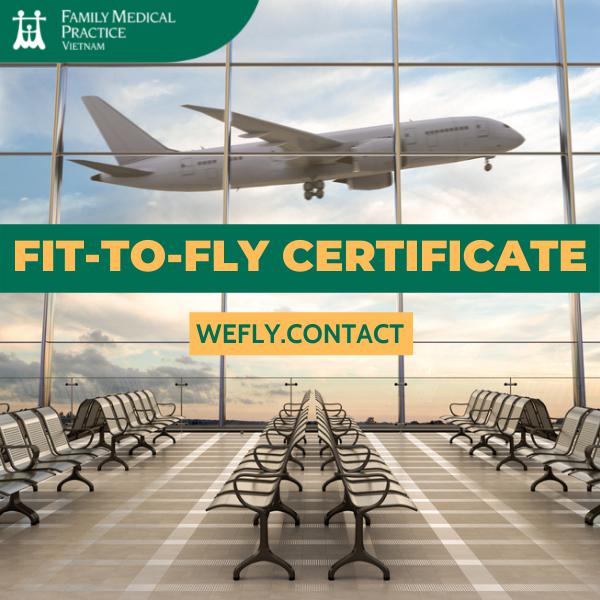 What is a COVID-19 Fit to Fly certificate?
A Fit to Fly certificate is a medical certificate issued by a doctor that confirms your fitness to travel. Please keep in mind that the certificate can only be issued if COVID-19 test result is negative.
How to get a Fit to Fly certificate?
Family Medical Practice in Ho Chi Minh City, Danang and Hanoi are providing RT-PCR test services to the passengers.
How long does a Fit to Fly certificate last?
Your Fit to Fly certificate shows you are fit and able to fly around the time of your flight. A Fit to Fly certificate may not be accepted if it was given to you a few weeks or months before you are set to travel. With the outbreak of the novel coronavirus, some airlines and countries may specify how recent your Fit to Fly certificate must be.
Why choose FMP for COVID-19 Fit to Fly certificate?
Time windows
The need for pre-flight COVID-19 testing depends on where you are and where you're travelling to. If you're planning on flying somewhere, do take into account the fact that most domestic and international destinations allow a 48 - 72 hour window from the time of testing until the departure time or landing time at the final destination. However, there could be different policies among countries and airlines. Please do ask your airlines to provide you with detailed information about the required window time. Each country has their own rules, and these rules are subject to unforeseen immediate change at the moment.
As the RT-PCR test could take up to 24 hours to get the result ready, it is really tight to suit with airports that require a short window time. However, we can provide you a worry free solution at FMP Hanoi, we will ensure that you will get your certificate ready prior to your departure. It is possible to take the test in the morning and receive your result in the evening, which could adapt to your strict timetable.
Please contact our hotline 0777 399 119 for more information
Trusted by airlines and embassies
RT-PCR tests for Covid-19 are universally recognized, which is due to the fact that RT-PCR test is the confirmatory method to confirm that you are negative to SARS-COV-2. This test method will ensure that your test results will be accepted by your airline and embassy.
Also, some destinations require only negative antigen tests prior to the flight, so please ask your airline provider to keep you updated with the latest policy.
We are currently collaborating with Cathay Pacific Airways to provide COVID-19 RT-PCR test services to the passengers.
For more information, please visit: https://www.wefly.contact/
For antigen test service, please visit: https://bit.ly/3xMB5Eg
Our service
Down the road, Family Medical Practice Hanoi is providing a delivery service that allows you to get the result while staying at home. We understand that you are often busy getting everything set up prior to the flight, hence, freeing your mind is what we are offering.
Please kindly provide us with your inquiry for the best service to be delivered.
Or you can leave your contact information here, FMP Hanoi will connect back with you asap.