FO SERVICE FOR COVID-19 PATIENTS QUARANTINE AT HOME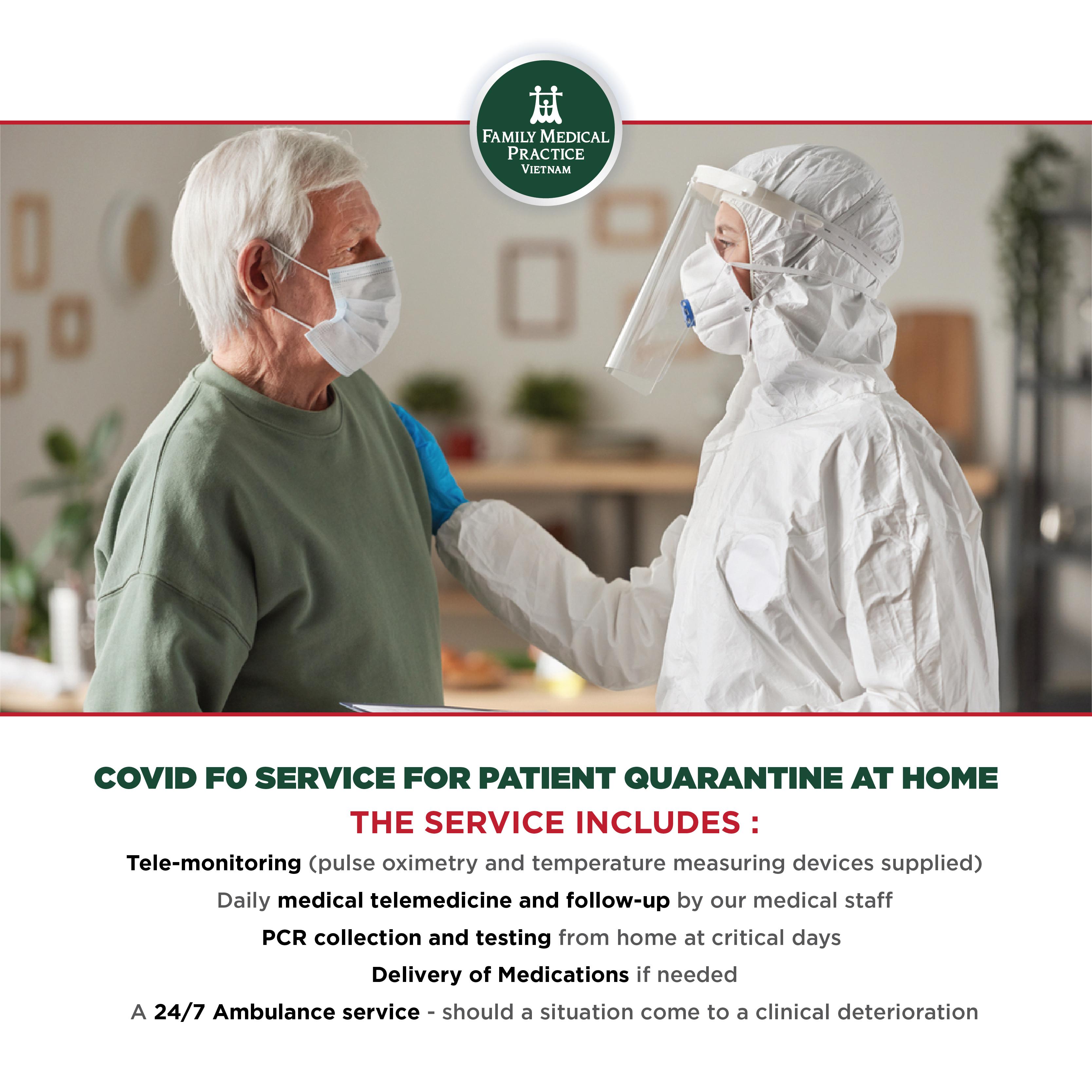 According to the Hanoi Department of Health, as of December 31, 2021, Hanoi is having a total of 27,502 Covid-19 patients, of which 17,764 F0 cases are isolated and treated at home. In spite of the fact that this is to ease the burden on the medical system, the isolated patient may gain stress and depression as they may not get adequate medical support when needed.
Therefore, at FMP, we provide a F0 service to treat COVID-19 patients under quarantine at home.
1. Who is applicable for COVID-19 F0 Service
The COVID-19 F0 service is suitable and applicable for patients who are approved for home isolation by the Department of Health
According to the Department of Health, the patients have to meet below clinical criteria:
No symptoms or mild clinical symptoms (no respiratory failure: Spo2 ≥ 96% when breathing, respiratory rate ≤ 20 breaths/min).
People aged from 1 to 50 years old with no underlying disease, pregnant or obese. For cases that do not meet these conditions, they can still be considered to get treated at home if they have a stable underlying disease. Also, the patient must have vaccinated at least 1 dose for more than 14 days.
Capable of self-care, know how to measure body temperature; able to self-medicate according to a doctor's prescription; able to contact medical staff to be monitored. In case F0 is a child or a person who cannot take care of themselves, a caregiver is required.
Regarding patient's family, there are no people in the risk group including: elderly, people with underlying diseases, obese, pregnant...).
2. What does the COVID-19 F0 service include?
Finger pulse-oximeter for self-monitoring at home for pulse and oxygen levels
Daily (if needed) video or phone consultation with a FMP Doctor
Subject to Patient's condition, it is expected that 2 PCR tests will be performed by FMP's medical team, preferably on days 7 and 10, to measure levels of COVID antigen.
3. COVID-19 F0 Service Q&A
Does FMP guarantee the hospital when the situation of an F0 deteriorates and needs to be admitted to the hospital?
Ambulance transfer service to a designated COVID medical facility, in the event that the Patient develops severe symptoms and requires advanced care. Such service will be pending the availability of ambulances and availability of hospital beds (which are not under the control of FMP). The ambulance transfer will be subject to additional fee.
If Patient deteriorates and is moved to a hospital earlier than the end of the 10 days monitoring - Does FMP refund the remaining amount?
No
In case the patient moves to the isolation area / hospital, the service "COVID HOME MONITORING" automatically expires.
The service is non-cancellable and non-refundable
Can the patient use the ambulance service of FMP?
For any emergency,- patients can call *9999 Emergency Service. Based on the condition of the patient, an ambulance may be dispatched, however this is mostly reserved for ALL OTHER EMERGENCIES EXCEPT COVID. There are designated cars for different emergencies in order to prevent possible cross contamination.
The COVID HOME MONITORING does not include pre-booking of Ambulance and Hospital transfer services. In the event that such services are needed due to the condition of the patient who has purchased the service, Ambulance service may be provided subject to Ambulance availability and availability of Hospital.
Does FMP have special prices for a company or a group?
Our rates are per person. No corporate rate available.
Can I book the service in advance?
The Service is provided on a First come, first serve. Unfortunately, due to the increasing demand and limited resources we cannot accept pre-booking or reservations.
Can a medical team come to collect the PCR sample if the area of the patient is locked down?
Yes.
When do I need COVID-19 F0 service?
In case you have been diagnosed with Covid-19 infection and are staying at home with no or mild symptoms, this service is designed for you.
COVID HOME MONITORING SERVICE is a home support service, through remote monitoring, of patients with confirmed or possible COVID-19 (FO or F1 staying at the same house with F0) only in the event that such Patients are allowed to stay at home by the competent authorities, and throughout the duration of staying at home.
What can a patient do if the local CDC instructs F0 or F1 to go to the camp/or hospital within the 10 days of service?
Patients must comply with CDC instructions. The home monitoring will be terminated, however, unfortunately the fee is non-refundable. FMP will alert the embassy or consulate in case the F0 is a foreigner.
How many days does F1 need to do the PCR test after contacting F0?
The 1st test is after 48 hours and 2nd test is 72 hours after 1st test
Does my insurance cover the Covid-19 F0 service?
Yes in some policies. Please check with your insurance company for your policy coverage
How can I register and how can I pay?
Please call (024) 3843 0748 ext 112 to register. Our team will guide you through the next steps.
Payment method: Bank transfer.
Bank account: CONG TY TNHH PHONG KHAM GIA DINH HA NOI
SO TK: 001.100.4383622
VCB CHI NHANH DOI CAN - HA NOI
Transfer Content: Pay for F0 Covid Service
For more information and registration, please call (024) 3843 0748 ext 112
4. Limitation of FMP's liability in this service
FMP only provides support services, helping people who are isolated at home know how to monitor signs and symptoms, help advise more living notes to ensure safety for people living in the house, help solve Answer questions as well as reassure psychological worries during the period of isolation at home.
We do not treat COVID-19 as prescribed by the Ministry of Health. Do not interfere with medical requirements, appoint tests according to regulations on reporting and declaration issued by the Ministry of Health and the local preventive medicine agency.
----------------------------------------------
Family Medical Practice Hanoi
Address: 298i Kim Ma - Van Phuc Diplomatic Compound, Ba Dinh District, Hanoi
Message us: m.me/FamilyMedicalPracticeHanoi
Hotline: 024.3843.0748 ext 112, 117 (24/7)